Holiday Pony Rides and Petting Zoos!





Sleepy Hollow Horse Farm

will be offering pony ride trick-or-treating for your cowboy or cowgirl. As part of your child's costume, one of our very special ponies will deliver your child door to door in your neighborhood. An experienced handler will accompany both pony and rider. Ponies can be decorated to the theme of your choice for an additional fee. Pony Ride Trick or Treating has proven to be a very special and most memorable event for your child. Ponies can be decorated as unicorns, zebras, characters or virtually any idea that you may have!
Pony rides and farm petting zoo animals may be rented for any special holiday or special event!
From donkey rentals for Palm Sunday, Cinco Di Maio and Christmas Live Animal Nativity Scenes, lambs for Easter Sunday, petting zoos for Blessings of the Animals and any other family event you may have in mind.

Email Sleepy Hollow's Mobile Traveling Friendly Animal Petting Farm Zoo and Pony Rentals!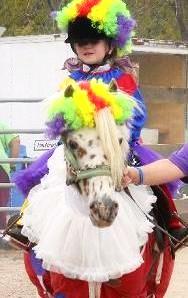 Costume ideas for a Halloween pony party theme include:

Toy Story's Woody and his horse, Bullseye


Pippi Longstocking and her freckled horse, Alonzo


My Little Pony


Lone Ranger with Silver


Zorro with his mighty steed, Tornado


The Headless Horseman


Rainbow Brite and her rainbow pony, Starbrite


Cowboy or cowgirl


Billy the Kid - Annie Oakley


Prince or Princess


Arabian Shiek


For a Halloween Pony Ride your child will never forget please Reserve Halloween Pony Rides .
Space is very limited.